The kingdom music scene is growing, and in the motor city one of the ambassadors is Detroit's own David Michael.
As the world turns it seems more and more chaos is arises, but there is something positive that has started to arise: Kingdom Music! David Michael has enlisted himself in the army of the Lord in a battle of good vs evil. His music is sure to keep you focused on whats important in this world.
Read below for bio, exclusive interview and music!
Hot Single Alert! Fresh off the presses and you can catch it right here:
[twocol_one]
Artist: David Michael

Album: WASH
Song: Send the Sword
Send the Sword_MP3[/twocol_one] [twocol_one_last]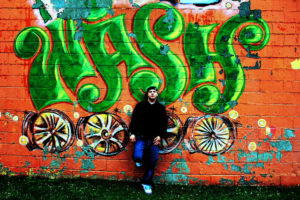 [/twocol_one_last]
David Michael began life as just another statistic out of Detroit, Michigan.
Years spent growing up in a broken home led him to the streets. The mentality of the streets then led him down the wrong road and into spending many years of his adolescent life behind bars. By the time he was 20 years old he was once again incarcerated; this time facing multiple charges including attempted murder.
Upon learning of the Redemption of sins through Jesus Christ, he cried out for Salvation. On that day God redeemed him out of his life of sin and a year later delivered him out of that jail cell. Despite the fact that he failed a lie-detector test and his fingerprints were found on the murder weapon, the 5-25 year sentence he was given was shattered. Through God's Grace and Mercy, he stands today a "Born Again, Holy Spirit filled Believer". To that end, David Michael now seeks to reach his generation by spreading the Gospel through Christian Hip-Hop Music and is currently a member and serving as an integral part at "Detroit World Outreach Center": A "Multicultural Powerhouse" that is currently rebuilding Detroit Michigan spiritually, socially, and economically; even bearing the slogan "A Church for ALL Colors" as a boldly under the name.
For more info please visit http://www.dwo.org
His most current work to date is "The Underground". A gritty, mid-west, underground album he released in 2010. Packed with Biblical truth and backed by an arsenal of production, the listener hears his passion and zeal for the Lord through his igniting lyrics and engaging delivery.
David Michael has ministered in word or in song at over 40 events in 2010 alone. Since his musical debut in 2009, he has opened up for a list of Christian Hip Hop's most recognizable groups. A list including "Grammy Award Nominated" labels like Reach Records recording artists Lecrae, Tedashii, Pro, Trip Lee, and Cross Movement Records artists R-Swift and Phanatik, Mahogany Jonz and many more.
He is also the C.E.O. of David Michael Clothing, an apparel company that specializes in hand-painting Biblical truth on urban fashion in order to draw all eyes to the unchanging Word of God.
To stay plugged in with him and what the Lord is doing in his life and city, visit: www.facebook.com/davidmichaelclothing
TH: What's the name of your Group? What's the origin of that name? Have you changed the groups's name before? DM: My name is David Michael, I am a solo artist. That is my actual name.
TH: How old are you? DM: David Michael, age 25
TH: What genre of music do you consider your work to be? Who are your major influences? DM: Christian Rap/Gospel     Major influences include Marvin Sapp & Deitrick Haddon
TH: When did you start making music and what was the inspiration behind it? DM: I was led to start a Christian Music Career shortly after I gave my life to Christ. I always had the gift of music but it wasn't always God focused. So after much prayer, fasting, consideration, and dozens of prophecies throughout the greater Detroit and Metropolitin area I decided to follow the Will of God for my life and aim to pour out Biblical Truth to my generation through Christian Rap.
TH: Are you signed, or have a record label? DM: I am currently unsigned
TH: What can you tell me about your roles outside of just your own music? DM: I currently am involved with my church "Detroit World Outreach" outside of music. I travel and teach at different churches and various non-profit organizations, as well as disciple and pour into other up and coming Christian artists.
TH: Where have you performed? What are your favorite and least favorite venues? Do you have any upcoming shows? DM: I have ministered at over 40 events in 2010 alone and already have begun touring again this year. I have always been Blessed by the opportunities God gives me and always thankful. More than a few times, the sound system at a venue has cut out mid-song! I take it lightly and never get unfocused. I always enjoy being able to pour out whatever God gives me to say. I have several upcoming events including opening up for Lecrae (Reach Records) in May in the city of Saginaw, MI. Other events will be announced on my social media such as http://www.facebook.com/davidmichaelclothing
TH: Which songs do you perform most frequently? Do you ever play any covers? Do you have a set play list? DM: Some of peoples favorite songs are "Stand Strong" and "Help is on the Way". Those usually draw people in to worship and go hard at events! I haven't been led to do any covers as of yet, and I have a broad set list an usually stay open to what the demand is for any given event, also praying and being mindful of what the Lord is speaking.
TH: Who writes your songs? What are the main themes or topics for most of your songs? Do you think these topics will change over time? DM: I write all my songs, the themes and topics vary on all my projects.
TH: Could you briefly describe the music-making process? DM: When I get ready to produce a song I just sit down and pray. The music usually moves me to write, then its all up to the Holy Spirit!
TH: What are your rehearsals generally like? Do you have a set time each week in which you practice or are rehearsals more spontaneous? DM: I usually rehears a few times a week always trying to improve.
TH: How has your music evolved since you first began playing music together? DM: My music has grown tremendously over the years. Seems like each year my overall sound improves so I'm thankful for that.
TH: What has been your biggest challenge as a group? Have you been able to overcome that challenge? If so, how? DM: My biggest challenge as a solo artist is always doing everything on my own, but the Lord has been Great to me and brings me help from time to time.
TH: What's your ultimate direction for your group? Are you seeking fame and fortune? DM: My ultimate direction is to expose the lies of the enemy in our culture while teaching the Truths of the Bible. If it's on a stage infront of thousands cool, if its on the corner, cool! I've learned a huge crowd is not always the most responsive. It's entrusting God to deliver exactly what the people need, through your submission to Him. It's not in your ability, it's in Him and His Faithfulness to His people. Anytime you are led to think you did something, you are sadly mistaking. God is concerned about and loves His people, He will always deliver what we need, whether it's encouragement, rebuke, or even just joy. As long as you come expecting Him to move, with a heart of worship, and allow God to do what He wants, you can never go wrong!
TH: What advice do you have for people who want to form their own bands/group/be an artist?
DM: As an artist that knows he was called for this I would ask you did God really call you to this? We all can worship and sing to the Lord, by all means, we were created for worship, but did He call you to be on a stage? Often peoples talents get them were there character can't keep them. I would ask has your Pastor released you after Discipleship? Have you and inward witness of the Holy Spirit confirming you. This is not to be confused with raw emotion or even zeal. Sometimes zeal will push you out of the Will of God for your life. You must always be concerned about the Perfect will of God for your life.
TH: How can fans-to-be gain access to your music? Do you have a website with sample songs or a demo CD? DM: We are launching a website soon and people can always get a hold of me through my social media, i.e. facebook etc.
New music is always on ThaHitz.com
TH: Is there anyone you'd like to acknowledge for offering financial or emotional support? DM: Yes my current Pastor Bishop B.A. Gibert of "Detroit World Outreach" http://www.dwo.org My mother and father in the Gospel, Donzella & Richard Ervin. "Fearless Entertainment" founders Mike Gordon & Dante Crockette And all those who have prayed for me, and everybody that has poured into me financially and spiritually.
TH: Have you been nominated and/or won and awards? What has been some of your biggest achievements?
DM: I have not been nominated nor won any awards yet but will be looking forward to the Lord getting Glory out of my life!
TH: Any last words? DM: Yes, people, there will come a time when the Lord will crack the sky back and come for us….will you be ready? Thy Kingdom Come. Amen