Refreshing. That was the first word that came to mind when I first heard Robert Jones', aka Rob J, music. A pleasant blend of music styles from generations past and present. We wanted to share his music and accomplishments with you!
If you want to talk about blessed and having God's favor than you can look no further than Rob J.
From the Stellar Awards to Rhythm of gospel Awards to Bobby Jones Gospel he and his group J-Factor have been recognized as one of the best acts out.
The best part of it all, is the humility shown no matter how many personal accolades come in, for Rob J, it always comes back to giving God the glory for his talents and blessings. Continue reading below for music and the always interesting ThaHitz Artist QnA with Rob J.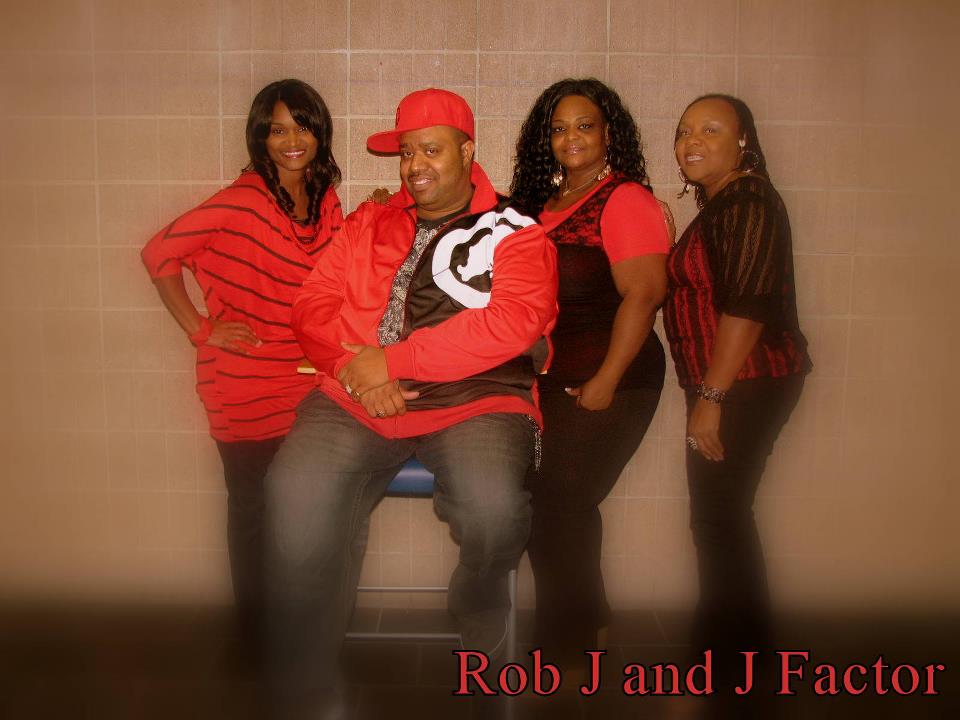 Dont Get It Twisted:
Letting Go:
Robert Jones (AKA) "Rob J"
began singing Gospel Music at an early age at his grandfather's church. Rob J released his 1st 2007 Gospel CD entitled,
"Inner Call,"
Featuring Gospel dance song,
"Get Your Praise On"
.
He has also appeared on the Bobby Jones Gospel Show, and opened for Artist Dottie Peoples. In 2009 Rob J's career began to take flight, by winning the Artist of the year award for Boss Lady Promotions, and the Christian Exposure Music Competition. Also, in 2009 he released his 2nd CD "Crucified" which was nominated for a Stellar Award for best album of the year. In 2010 Rob J started recruiting for background singers.
When Rob J put out a call for background singers for J Factor Carolyn was one of the first to audition. Kennedy the second to join in 2010. In July of 2011 Rob J Factor Appeared for on the Dorinda Clark-Cole Show. In August of 2011 another member was added to J Factor, Serina Buggs, who is also a new solo artist under J Factor Ministries. They are now known as Rob J and J Factor. Recently Rob J and J Factor in October of 2011 release their CD called "THE RESTORATION."
In which their single "DON'T GET IT TWISTED" has recently been nominated for "SONG OF THE YEAR" through the Rhythm of Gospel Awards, and Rob J himself has been nominated for Male vocalist of the year in the Urban/Hip Hop category.
ThaHitz: What's the name of your Group?  What's the origin of that name?
Rob J: Rob J and J Factor. Well I am the leader of the group Robert Jones AKA Rob J and J Factor comes from the term X Factor. We take out the X and add the J, which stands for Jesus. We feel if you have Jesus you have the X Factor. Have you changed the groups's name before? I started out as a solo artist Rob J. The ministry has grown to include J Factor.
TH: Please list the name, age, school, and respective roles of each group member.
RJ: Rob J Ministry leader, Lead Vocalist, writer, producer. Carolyn singer ministry assistant, Kennedy singer, stylist,  Serina singer.
TH: What genre of music do you consider your work to be? Who are your major influences?
RJ: Hip Hop, Praise and Worship, rock.  God, Jesus first. Then musically Kirk Franklin, Mary Mary, Yolanda Adams, Michael Jackson.
TH: How long have you all known each other? How did you meet?
RJ: I have known Carolyn  for about 10 years, Kennedy for about 2 years, and Serina for about 3 years. Carolyn and I attend the same church, Mt Pisgah Baptist Church in My Morris Michigan. Kennedy and I meet at a CD signing I was at for my Crucified album. I met Serina through Myspace and then face to face at a Gospel concert I was attending.
TH: When did you form your group? What inspired you to make music together?
RJ: The group form officially in 2010. We had been singing together since a year as Rob J and J Factor. I have been singing all my life. My grandmother was a well know Gospel soloist. My grandfather was a Pastor and sung in Quartet Gospel groups. It's in my blood! I have been with two different Gospel groups before moving on to Rob J and now Rob J and J Factor.  
TH: Do you have a record label? Are you a member of any music organizations?
RJ: Yes, J FACTOR RECORDS. BMI.
TH: What can you tell me about your roles outside of just your own music?
RJ: I and CEO of J Factor Records. One of my singer Serina is also signed to my label as a solo artist. I'm happily married and have two kids.
TH: Where have you performed?
RJ: I have ministered in many places. Michigan, Canada, Florida, Mississippi, New York, and many more. I have open for Dottie Peoples, Minister o Bobby Jones Gospel Show, and ministered on Dorinda Clark Coles Show. What are your favorite and least favorite venues? My favorite is out door venues. There is something more freeing about minister in the out door events. My least favorite is when I am ministering and the equipment is less than desirable….LOL! We have all been at those kind of events…LOL! Do you have any upcoming shows? Yes. We have shows coming up in Michigan and Florida. I would encourage your readers to visit www.robjmusic.com for official dates and locations. The site is continuously being updated with new dates.
TH: Which songs do you perform most frequently?
RJ: "Don't get it twisted" and "Jesus".
TH: Do you ever play any covers? Do you have a set play list?
RJ: Yes. We have done many, like "I give myself away". In fact look that song title up with our group name on Youtube, and you can see a live performance of us singing that song at our release concert. We have a play list. However sometime the Holy Spirit calls for you to do something different.
TH: Who writes your songs?
RJ: I do.
TH: What are the main themes or topics for most of your songs?
RJ: God, Jesus, Praise, pain, struggles, and love.
TH: Do you think these topics will change over time?
RJ: We all grow as artist, but my main theme on praising Jesus will not change.
TH: Could you briefly describe the music-making process?
RJ: For me it starts with my lyrics. As I write I have a  melody and beat in mind. Then I lay tracks with REAL musicians and lay vocals. From there it's mixing and mastering.
TH: What are your rehearsals generally like? Do you have a set time each week in which you practice or are rehearsals more spontaneous?
RJ: We have vocal rehearsal to work on harmony. We have music track rehearsals to work on performances to track. We have live band rehearsals. We have live band and vocal rehearsals. And we have choreography rehearsals. So as you can see we believe practice makes perfect! We have rehearsals on Saturdays. We switch out which type of rehearsal we're conducting based on upcoming shows.
TH: How has your music evolved since you first began playing music together?
RJ: We have evolved into this edgy, Christian Group. Willing to be radical for Jesus. When we praise, WE PRAISE!
TH: What has been your biggest challenge as a group? Have you been able to overcome that challenge? If so, how?
RJ: Keep good musicians.  Yes, God…He just keep adding and decreasing as he sees fit.
TH: What's your ultimate direction for your group?  Are you seeking fame and fortune?
RJ: To reach millions for Christ. To show the listening audience that you can praise Jesus in your way…He's the way! No. We first want to give God praise. If fame and fortune happens then that's God's will for us.
TH: What advice do you have for people who want to form their own bands/group/be an artist?
RJ: 1 Work your gift…cause many have talents.
TH: How can fans-to-be gain access to your music? Do you have a website with sample songs or a demo CD?
RJ: The Restoration album is available on Itunes, Amazon, www.robjmuic.com, God's World in Detroit Mi, Music Planet in Flint Mi, and many more download sites. Yes www.robjmusic.com, www.reverbnation.com/robj, and www.shoutlife.com/robj.
TH: Is there anyone you'd like to acknowledge for offering financial or emotional support?
RJ: My backbone, my wife Anita Jones! She always supports me and my ministry.
TH: Have you been nominated and/or won and awards? What has been some of your biggest achievements?
RJ: I was nominated for a Stellar award in 2009 for my album Crucified for Best Gospel Hip Hop album. I won Boss Lady Entertainment 2009 Artist of the Year. And I was recently nominated for two 2012 Rhythm of Gospel Awards, Best male Urban Contemporary artist and Urban Contemporary song of the year "Don't get it twisted". Getting saved, starting my own record label, and being free with my praise.
TH: Any last words?
RJ: I would like to thank Tha Hitz Media Group for this opportunity…God bless!